Marketed driving simulators
The main goal of E-Educatio is to support drivers' training with the most efficient and state-of-the-art equipment, methods, products, and services, thus contributing to increase the level of road traffic safety. It is our conviction that simulators enable a similarly great change, modernisation and increase in efficiency in some parts of the practical training, as the use e-learning materials did in the theoretical training. Because of this, we were looking for a dynamically developing European partner, who has a wide range of products and is willing to provide the necessary adaptations for the Hungarian market, as well as constant professional support. This is why in September 2015 we have signed an exclusive distribution agreement with the French company EDISER.
We have prepared the adaptations needed for the Hungarian market for all of the different vehicle simulators. These simulators achieved accreditation in 2016, with the longest period of validity in the market. (The transport authority accreditation committee provided our simulators with accreditation until 2021.05.31.) Due to this, we strongly hope, that professionals in the Hungarian drivers' training sector will have the chance to get acquainted with EDISER products, which we market under the brand name:

The company EDISER puts great emphasis on the price-performance ratio. Their product selection offers a wide range of simulators, from the smallest devices (Simuscooter), which can be used in the training of moped drivers, through mid- to low-end simulators for passenger car training (SimuNomad and Barracuda), to mid- and high-end training stations (Barracuda – partly, Simu PL) which can be used in training the drivers of light- and heavy-duty vehicles.
A moving platform version is available for mid- and high-end simulators, which gives a realistic feeling of the movement of vehicles, and the forces affecting them. The absolute high-end of this range of products is a driving environment with a full-scale truck cabin. This family of simulators have several common features, which are present in each of the different products: a high-quality graphical representation and vehicle dynamics model, and highly variable software for a wide set of applications.
The possibilities offered by the EDISER simulators do not end here. As with every educational activity, the training of instructors is a crucial aspect. The EDISER dual control simulator with secondary control pedals can provide a risk-free but lifelike method, that helps the driving instructor trainees' transition from the training course to real-life situations.
A set of software developed specifically for the training of emergency vehicle drivers provides a possibility to train the drivers of vehicles used by the police, ambulance or the fire departments. These pieces of software include specialised training exercises developed directly for this purpose but can also take into account the differences between the needs of each emergency service.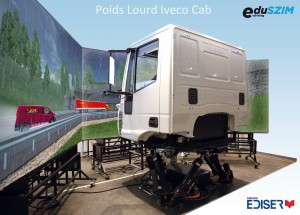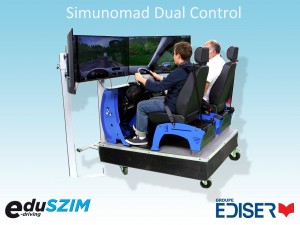 CPC-accredited simulators
Our Barracuda and SimuPL simulators achieved accreditation with the longest period of validity in the market. (The transport authority accreditation committee provided our simulators with accreditation until 2021.05.31.)
It is important to know, that due to these accreditations, any further simulators of this type will automatically be granted the accreditation, once they are proven to be of the same type and making as the previously approved Barracuda and Simu PL simulators.
Barracuda Type 2 technical details
The cockpit is made entirely of composite materials and has exceptional ergonomic properties. A steering wheel with realistic force-feedback provides a real driving experience. The simulator's applications range from training beginner drivers, through basic or complex road traffic safety training, emergency vehicle training, to fuel-efficient driving techniques.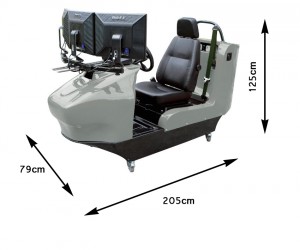 Simulator:
Colour: grey base colour (other colours are available)
Mobile cockpit, 4 lockable wheels
Optionally available with moving platform
Length: 2,05 m / Width: 0,79 m / Height: 1,25 m
Weight: 90 kg
Lifelike controls:
Adjustable seat
Manual gearshift (5 speeds + reverse gear), with possible automatic feature
Accelerator, brake, and clutch pedals (+ footrest)
Complete lighting and lighting switch (main beam headlights, dipped-beam headlights, indicator lights, etc.)
Steering wheel (diameter 37 cm) with electric force-feedback
Horn
Dashboard with software feedback
Software and display:
The software can be controlled from the cockpit (with a trackball mouse under the handbrake) and from the instructor station placed in the back with a keyboard and mouse.
Variable vehicle properties (passenger cars, light-duty vehicles)
Variable environmental conditions (road and weather conditions, visibility)
Numerous test and exercises
Several forms of evaluation and feedback (playback, analysis, errors)
Display on 3×24" LED screens, with a 180° range of vision
3-dimensional, realistic visualisation
Lifelike sound effects
Simu PL heavy-duty vehicle simulator technical details
The simulator can be used in the basic drivers' training or during the training of professional drivers (for both basic and advanced courses). It can also be utilised for teaching fuel-efficient driving techniques, road traffic safety or just knowledge renewal. The easy-to-use, compact simulator comes with a dynamic moving platform. It is also equipped with the necessary visual display system, a PC and a tablet, which enables the quick and flexible handling of the system. The cockpit is assembled using original, premium parts made for Renault trucks.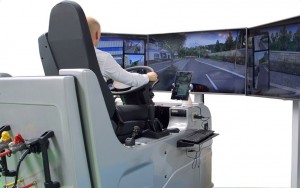 Simulator:
Colour: grey base colour (other colours are available)
Mobile cockpit
Comes with a moving platform (optionally can be delivered without a moving platform)
Length: 2 m / Width: 1,05 m / Height: 1,95 m (placed, in operational state)
Weight: 400 kg
Original controls:
Adjustable pneumatic seat
Manual OEM gear, 8 speeds (adaptable to bus and heavy truck) and automatic gear shift (software)
Accelerator, brake, and clutch pedals (+ footrest)
Electric retarder (TELMA)
Complete lighting and lighting switch (main beam headlights, dipped-beam headlights, indicator lights, etc.)
Steering wheel (diameter 47 cm) with force-feedback
Horn
Dashboard with software feedback
Software and display:
Control of software is possible from tablet
Variable vehicle properties (different heavy-duty vehicles and buses)
Variable environmental conditions (road and weather conditions, visibility)
Numerous test and exercises
Several forms of evaluation and feedback (playback, analysis, errors)
Display on 3×55" HDTV screens, 120°-180° range of vision
3-dimensional, realistic visualisation
Adjustable internal and external rear-view mirrors
Lifelike sound effects

Available vehicle categories:



Az Initial Pl sotware presentation
Mentés
Mentés